At GearedApp we often make a distinction between "In the business" and "On the business" activities.
In the business: Specific and necessary tasks that are normally to do with client-based work. E.g. relating to developing an app/website.
On the business: Activities that may not have an immediate impact on business, but are just as important. They often aren't as urgent. E.g. writing this blog post, re-evaluating our own website, or holding a business development session.
We believe that it's really important for us to always have a balance of the two. Much like maintaining your own work-life balance, things can start to fall apart of you neglect one or the other.
The last two months has been an exciting and manic time for us, with award ceremonies and networking events all kicking off. That being the case, our focus has been "in the business" for the last couple of months.
To give you a snapshot, here are a few highlights from arguably the busiest time of the year for us!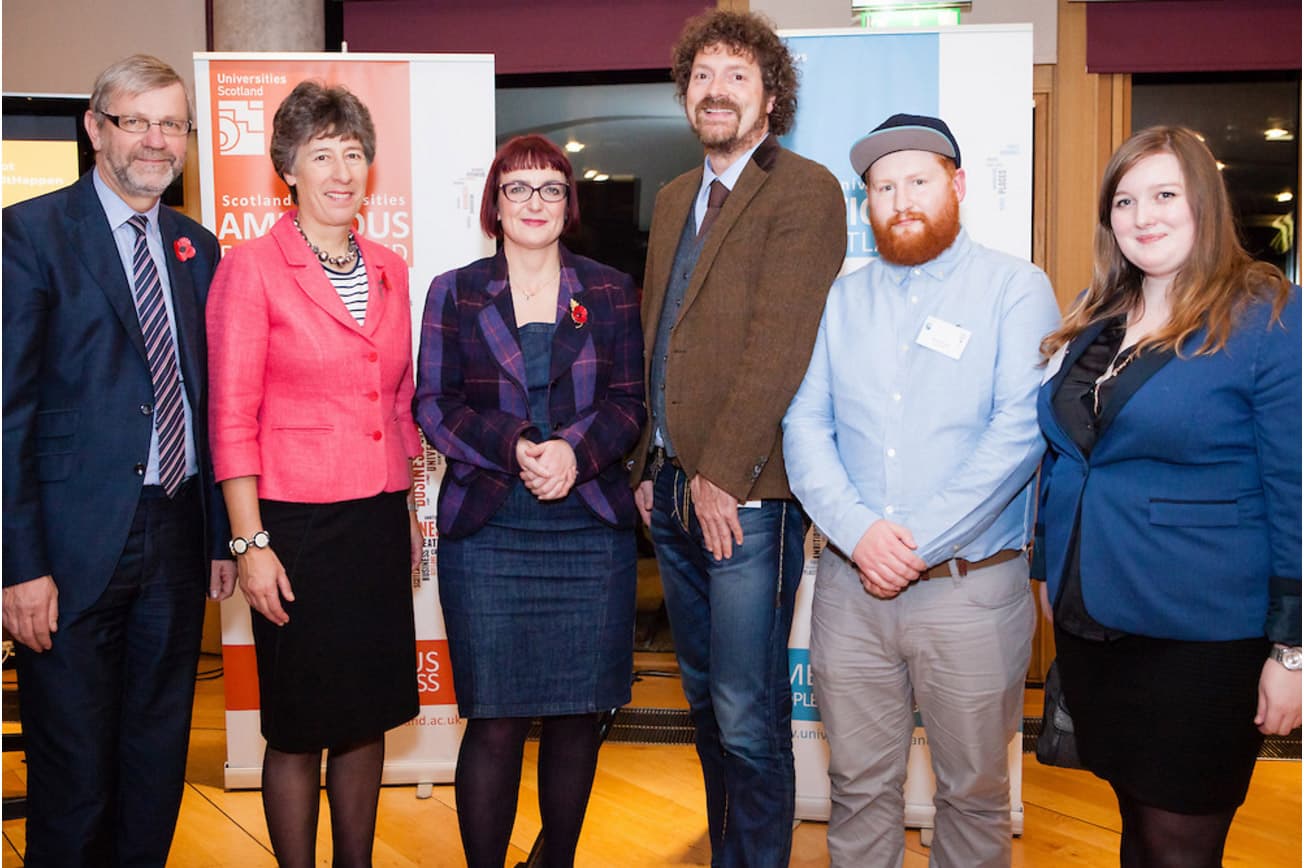 Talking at Holyrood
Universities Scotland invited us to talk at the Making it Happen parliamentary reception. This was an opportunity to speak about our journey from students to entrepreneurs, with the help of Napier. The evening, hosted by Ms Liz Smith MSP, was a showcase of the efforts that are going on within higher education and across Scotland to encourage entrepreneurship. Speakers included Pete Downes, Convener of Universities Scotland & Principal of the University of Dundee, Chris van der Kuyl, CEO Brightsolid, and Ms Angela Constance MSP, Cabinet Secretary for Education and Lifelong Learning.
Startup Summit 2015
This event saw Startups from around the world meet and learn from one another. A highlight for us was hearing from Anna Jones of Virgin Unite about how their philanthropic arm is working on improving office culture and minimise waste. We are happy to say we utilise the same practices, such as centralised printing and recycling.
The Festival for Entrepreneurship and the Scottish Business Awards
This double whammy event included a day time Festival, followed by the Business awards ceremony and dinner. The festival was a fantastic opportunity to connect with Scottish businesses. During this event we heard from Sir Chris Hoy – GB's most successful Olympic athlete of all time. Hearing his story was inspiring and incredibly motivational.
The evening event was hosted by Rob Brydon, with the Star guest George Clooney. This glamorous event marked the largest sit down dinner in Scottish history and was a night to remember. We had hoped for a selfie with George, but alas so did the other 2000 guests so didn't get far with that.
WeDO Awards
The annual WeDO awards ceremony was a chance to reconnect with other members and celebrate a successful year in business. It was a pleasure to share a table with great minds, such as Tartan Explorer, Content Marketing Academy and LocaBev.
Digital Tourism conference
We were invited to exhibit at the Digital Tourism conference 2015. This was the first ever national Digital Tourism conference, and an opportunity to discuss the changing landscape and need to embrace technology. There was also a live web-stream with a parallel conference in Barcelona, which gave an international aspect to the event.
Napier Developers society, with Andrew Williams of Fanduel and Odd Panda Design
Last but not least, we spoke to the Edinburgh Napier Developer's Society, alongside Andrew Williams, Lead Architect at Fanduel (Until recently COO at Kotikan) and Ben Thomson from Odd Panda Design.
With so many events on, and as we are also knee-deep in some exciting new projects, it can be easy to neglect other business development tasks.
So we are taking this two week period to do a few "on the business" things that we've been putting off. We'll also setting ourselves some new years resolutions to get better and maintaining this balance. This is an exciting time, and we have plans to grow our team in the New Year, with an additional web developer, among other roles.
We wish you all a very "App"y Christmas and New Year, and hope you also take this time to reflect and plan for a successful year to come!