Over the past few weeks I (Josh) have been taking part in a really exciting competition called San Francisco Summit, ran by We Are The Future!
This is a social enterprise built by entrepreneurs to deliver inspirational events around the world where leading entrepreneurs and business support groups share their experience to an audience of typically young entrepreneurs and future entrepreneurs.
The competition involved submitting a 30 second video pitch, which is a lot harder than it sounds. The idea of the pitch was to summarise what you are about and why you would want to go to San Francisco (the prize). I thought this would be pretty straightforward, and so Ben (from OPD) and I set about recording our pitches in our media room, against a green screen; the rules pointed out that there is no millage in production quality, but we wanted to play around with Chroma keying so did it against a green screen anyway.
This in itself was actually a lot of fun, and we quickly realised that even 20 seconds of written dialogue, when spoken aloud turns into around 45 seconds. Cutting the footage down to be a cool 30 seconds proved to be quite tricky, with entire sentences being axed so I could fit in my cackle at the end – thought this would help 'capture my personality'.
Strangely enough, the judges agreed with me, and as a result I was put forward to attend the final. The final was made up of 20 pitchers, whittled down from over 100 applicants.
The final took place at Gogaburn house, regional headquarters for the RBS. This was the first time I had been here, and I have to say the whole site is extremely impressive. Upon arriving I was introduced to some of the judges and other pitchers. It was really nice to meet everyone, and there were some people immediately hit it off with. One thing that is always good about these events is the networking; so many business cards were exchanged. Ideas about future collaboration and development were quickly underway.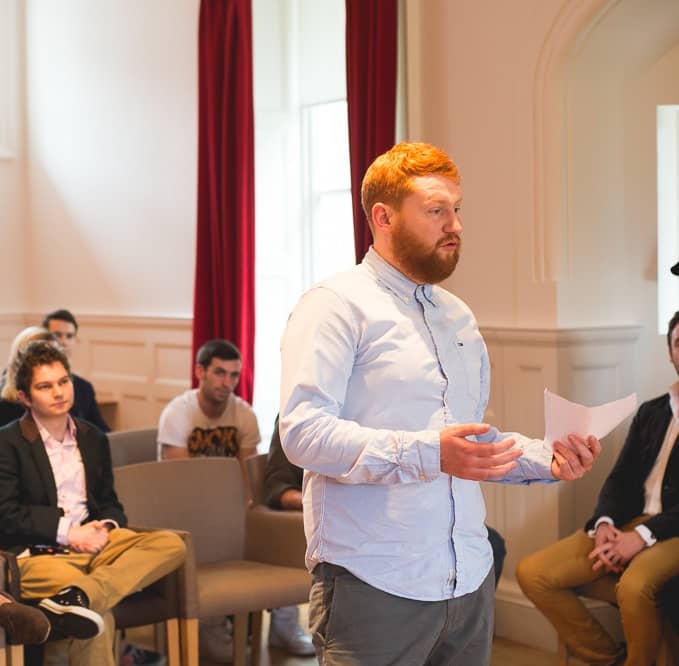 The pitches were to last 5 minutes, with 5 additional minutes for questions – again, 5 minutes isn't very long so it was really hard to scratch the surface of everything you do and believe in without going into too much detail. I really enjoyed pitching, and received some curveball questions from the judges, which I think I answered fairly well. One judge in particular was asking some fairly probing questions, which didn't relate to the company or San Fran, but rather to me, and my own personal development.
The pitches went on all day, with 15 minute intervals every 4/5 pitches. This gave us a chance to mingle and congratulate one another. I think I was rather fortunate in that I was the second pitcher of the day, allowing me to 'relax' and enjoy the other pitches.
After the pitches were finished there was a deliberation period, this was incredibly nerve wrecking. That being said, I wasn't very confident after seeing everyone else in action; there were some brilliant ideas floating around the room and some really strong pitches from very assertive voices.
So, if you haven't established already, I didn't win. However, not all is lost! I was approached by one of the judges, Gordon Merrylees, the regional director for RBS. He thanked me for my pitch and mentioned that he wanted to introduce me to some key figures that could benefit us; as silver linings go, this was pretty good!
After the pitching day I received some feedback from Russell Dalgleish, a non-exec in We Are The Future! He gave me some really constructive comments and suggestions for my next pitch, which was extremely valuable and will be of some use in the future. Another benefit derived from pitching at this event was the invitation to attend the Power of Youth – The Naked Entrepreneur, a two-weekend event where entrepreneurs are taken on a retreat where they learn to grow and develop their business ideas and vision. This was really exciting as several people we know (and are currently working with) had attended this and so we were able to see the millage in this straight away!
Would just like to say a big thanks to Bruce Walker and all the nice people at We Are The Future! The event was hugely beneficial, it was fun, and I have learnt a lot from the experience. Looking forward to attending any future events you run.
I would also like to thank all the judges involved:
Gordon Merrylees, Regional Managing Director RBS Business Banking; Michael Young, CEO MBN Solutions; Jane Kerridge Princes Trust, Illana Wetzler, Director, Unbranded and Bruce Walker, CEO, We Are The Future.
Related: LinkedIN Article