As a team, we are no strangers to remote working. Being immersed in digital innovation, it's no surprise that we have a tendency to embrace new tools and technology every day!
With an international team who often have to travel to see family and friends, flexibility and being able to work from home is a big thing. This year, one of our team moved permanently to Bulgaria, prompting lots of discussion about how to maintain inclusive communication with remote team members.
Covid-19 (aka Coronavirus) is forcing teams around the world to socially distance and work from home. So what can we do to make remote working as efficient as possible for the team, especially if we cannot avoid it?
Get prepared with the right tools
This may seem obvious, but providing laptops for your team instead of desktop computers will have a big impact on business continuity if your team has to work from home for any reason. Whether it's an electricity outage, pandemic, fire, you name it, your team can pick up and work from anywhere.
If this isn't possible, make sure that your team has access to a computer at home that is set up with the tools and software they need to do their job.
Asides from the obvious equipment, you can adopt certain digital tools that will ensure your team's communication runs smoothly whether they are in the office or not. Here are a few of the biggies from our perspective: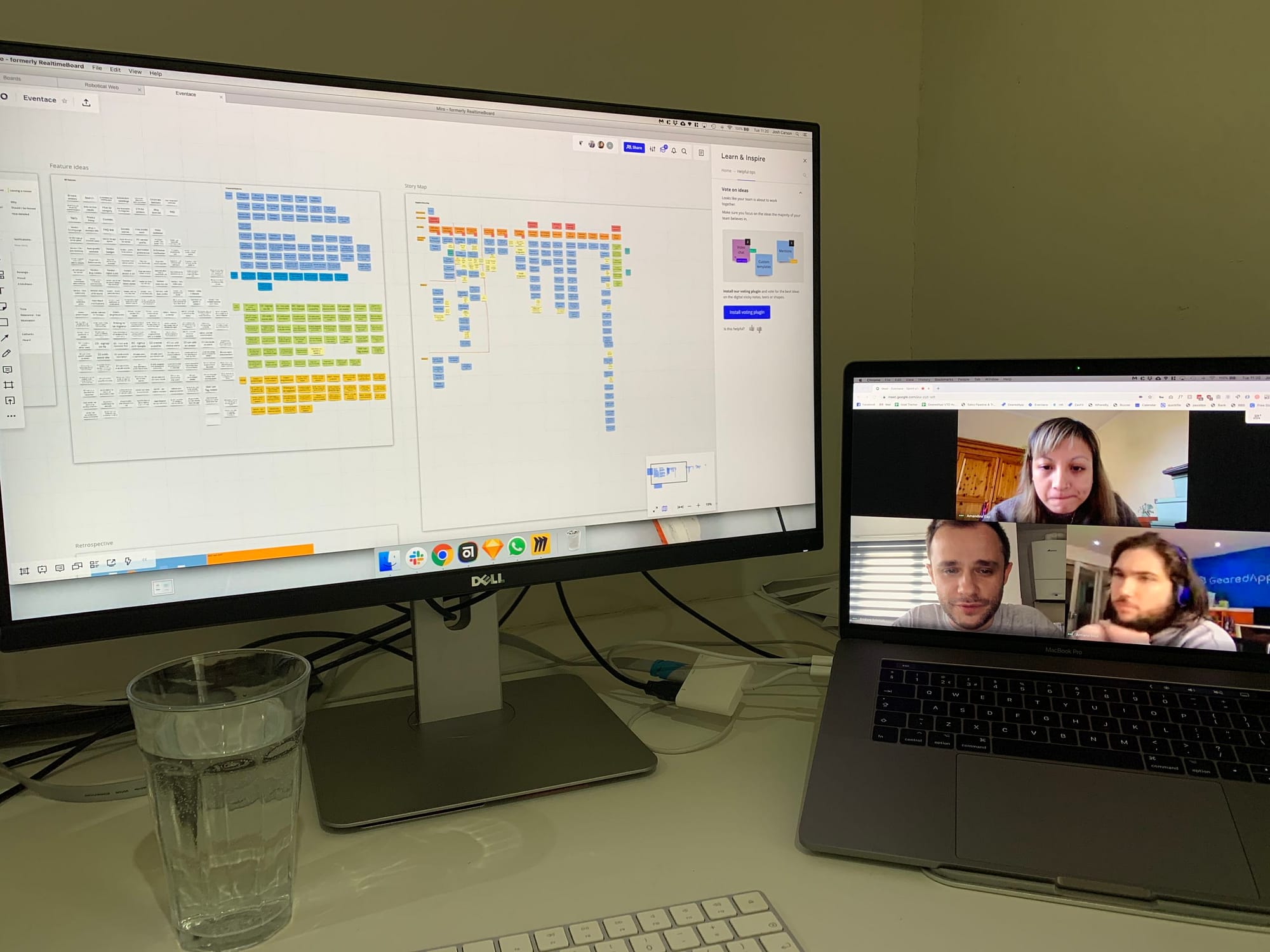 Video calls are your friend!
Chat platforms like slack are amazing for a quick conversation, but this needs to be supported by scheduled meetings for open conversation via video calls.
Now that the whole team is working remotely, we start every day with a group video call, or "standup" to keep communication flowing. Video calls have their pros and cons. While it can seem straightforward, communication isn't so natural. It's important to make sure your meetings are structured, you have someone chair the meeting, and give everyone a chance to speak. You can set rules to ensure these run smoothly, such as muting mics when not talking, or raising hands to talk and avoid interruption.
Also, take an opportunity for a light chat, have a laugh, catch up and feel a little closer. You can schedule time for this either at the start or end of the meeting. This way you can try to maintain a sense of comradery as a team.
Dedicated work zone @ home
Feedback from our team is that having a dedicated work zone is extremely important. Advise your team to think carefully about where they will work and how they will set up their space. Even if it's a separate corner of a room, at the dining table, kitchen – so long as it's set up for work and away from your bed and TV, your team are much more likely to feel like they are "going to work" and have a productive day.
It's so important to maintain a routine and schedule. You may have flexible working policies in place, but try to impose a routine around certain meeting times, such as daily stand-ups via video call. (You may not be physically standing, but each person has the chance  to explain what they have been working on, and they plan to work on that day, for up to 1 minute each.)
Advise your team to aim to get up at the same time each day, set time for breaks, get dressed, and act as though this is a normal working day at the office.
Set daily tasks – and communicate these!
The hardest part of running a remote team is keeping track of who is doing what. Assign clear tasks using a dedicated project management tool, such as Jira (for development teams), Trello, Asana, Basecamp… there are many options, but use your selection consistently.
Everyone is different, but most people feel most productive when they have set goals and they achieve these goals. Encourage your team to set daily tasks, and let everyone know what they want to achieve each day either in morning video meetings of via Slack or your chat platform. If you do use slack, you can use Slack Bots like https://www.standupalice.com/ to automate this.
Embracing working from home may have its challenges, but will increase your resilience as a company exponentially, and protect the health and wellbeing of your team. By acting now we can all ensure we have effective, productive teams that can survive any crisis. But no matter what, keep smiling, keep communicating, and keep supporting one another – both within our teams and our local communities.