Its our birthday! GearedApp turns one year old, happy days!
At GearedApp we are both delighted and relieved to announce that we have reached the end of our 1st year in business! It's time to take stock and reflect on the past year, starting business life as fledglings, and look ahead as we make the transformation into (semi) graceful technology swans.
Those closest to us no doubt will have had a live, blow-by-blow account of the past year at GearedApp. For those of you who haven't, here is a brief summary of some of the highlights:
We started life as 5 musketeers, the software engineer, the linguist/violinist/project manager, the creative guy/designer, the marketer/developer, and accountant/clown/developer. Still glowing from the success of the distinction grades we received from our group project together, we decided to take on the world of mobile apps. We had built a cross platform app once, we could do it again! So we settled into the Napier business incubator and started to hatch our plans, and GearedApp was born! We took on as many projects as we could find, tackling them one by one. We were hoping to eventually build our own products, and while (some of us) finished up our dissertations we dedicated as much time as possible to building our business so that eventually we could focus on that. We learnt a lot! (Business plans, proposal writing, cashflows, coordinating meetings, networking, buying enough teabags, etc.)
Working at such intensity however has its drawbacks. Some of us are yet to finish those dastardly dissertations, and for a while it felt like we were paddling away without moving anywhere quickly. Unfortunately, around March one of our directors, Georgios, had to leave. We were down to 4, and were sad to see him go. We had a capacity issue, and we needed a solution fast as our client base and potential projects built up. To combat this we beckoned a tidal wave of interns, which presented another learning curve that we are still getting our heads around. The ever-exciting start-up experience or was quickly taking the shape of an early stage company, and this surge of activity and manpower seemed to catalyse our growth.
Throughout all of this we managed to meet some amazing people, some incredible organisations and take part in some fantastic opportunities.
A few of our Highlights
Winning honourable mention in the Edinburgh Apps competition
Getting to the We Are The Future San Francisco Summit competition
Being invited to the Power of Youth Naked Entrepreneur weekend
Passing our wisdom down to bright eyed students (Knox Academy YE group, Napier University Master class, Napier Student Conference)
Releasing our first Android App, NLP for IBS
Releasing our first iOS App, The Bay Fish
Getting in the Scotsman
Getting in the news
 Joining some amazing networks:
 Realising we had memorised the phone number for our favourite pizza place
 And most importantly, helping local companies realise their ideas and goals.
But don't worry; it's not over yet. We have a lot hidden under our belt and we are excited about the swanification process ahead of us.
Thanks to everyone who has helped us along the way!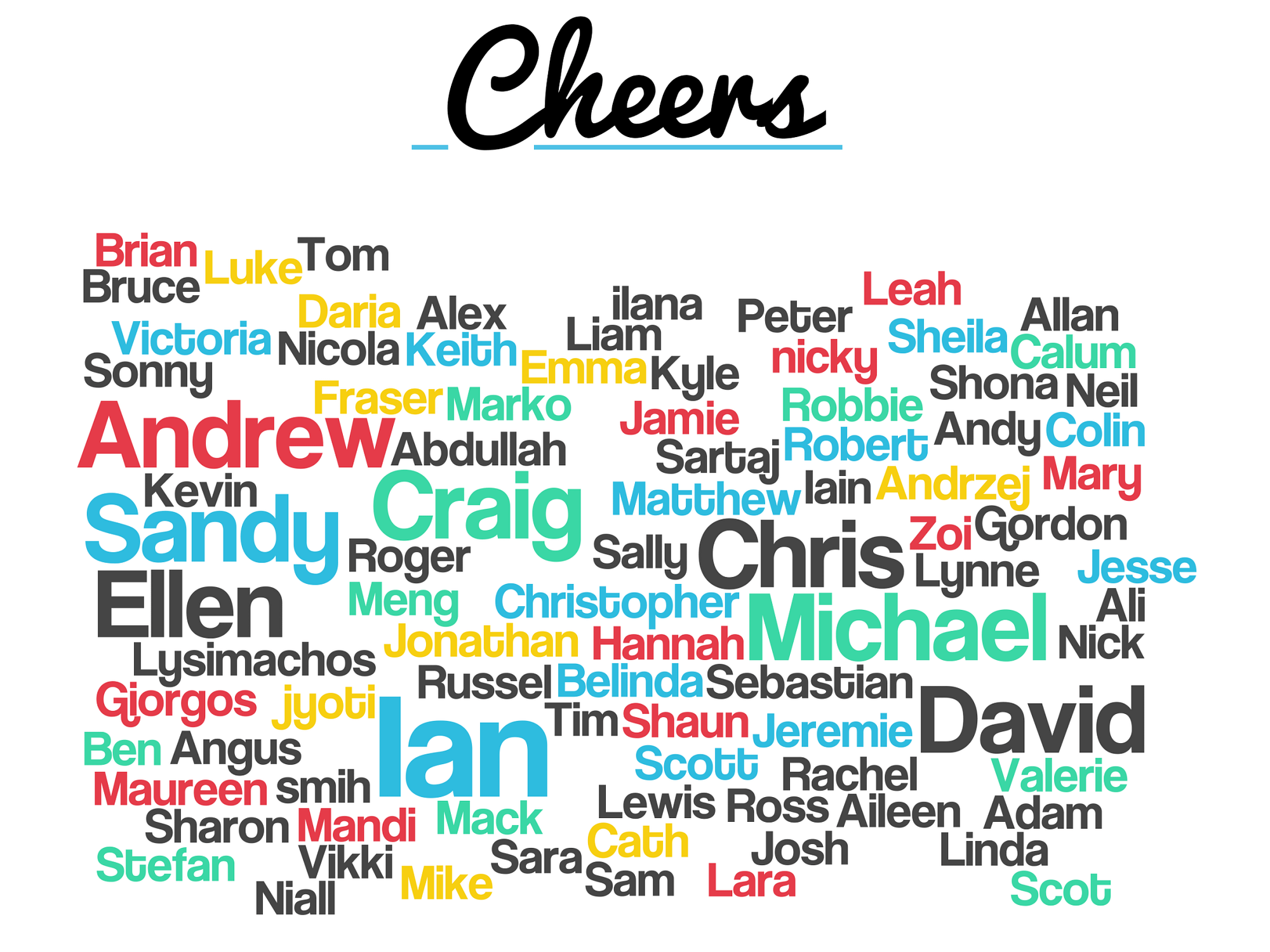 Words from Lara
This year has been surprising and exciting. We've really learnt the meaning of hard work, dedication and caffeine dependency. I think we are all grateful that we are working alongside such passionate and similarly committed team members – I can't believe how much we have achieved together, and I can't wait for what's next.
Words from Abdullah
When GearedApp formed there was excitement in the air, and and we were full of ambition. We have gained an enormous amount of experience since then. We have learnt how to communicate better, work as a team, improved our technological knowledge and learnt how to work with clients, which was a huge step. Along the way, I can't stress the huge advantage there was to running a startup as a team. Our technical skills alone did not get us to this point; learning how to manage a business was a huge learning curve that we are developing through day-to –day experience – something that no amount of education will give you. With me living in Saudi Arabia we managed to work together, working innovatively as a team and with our clients, which demanded good communication skills and understanding of the needs of both the team and the client. I am happy for everything I have experienced so far and I am looking forward to experiencing the next steps in our business evolution.